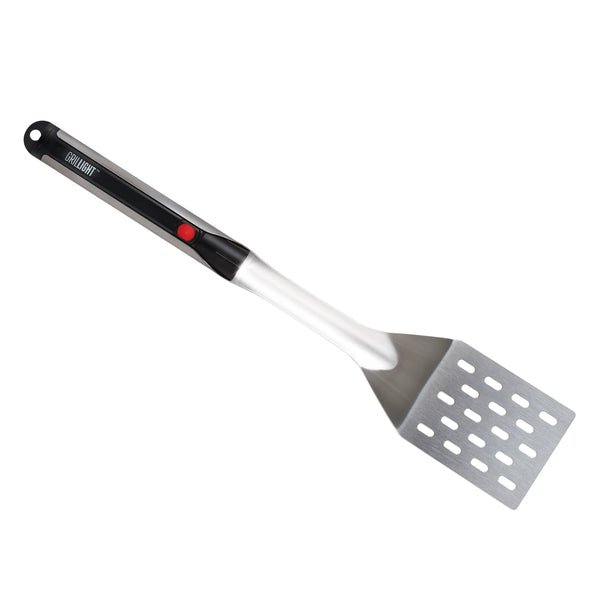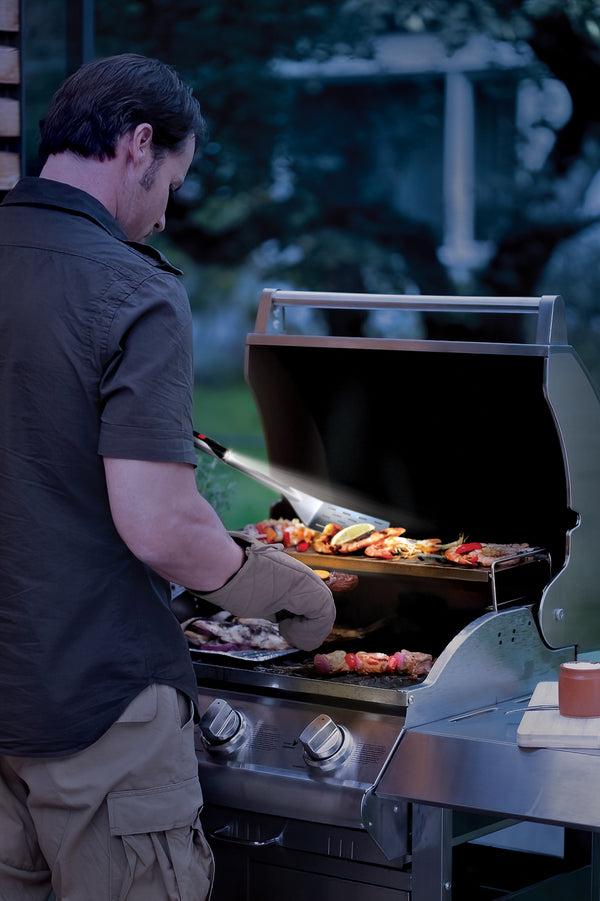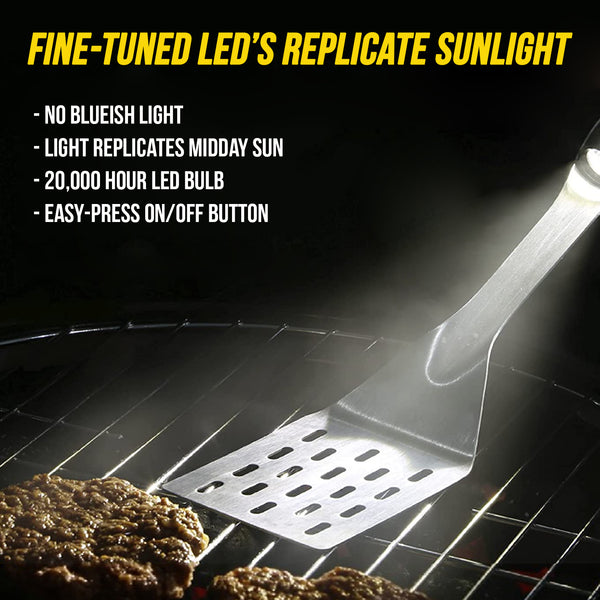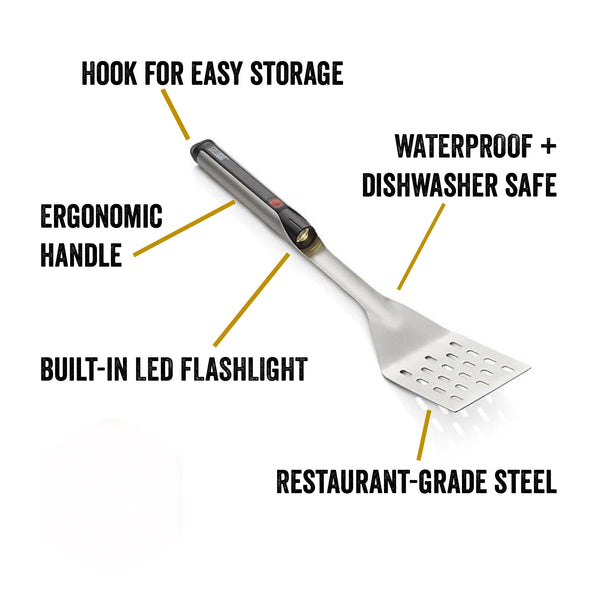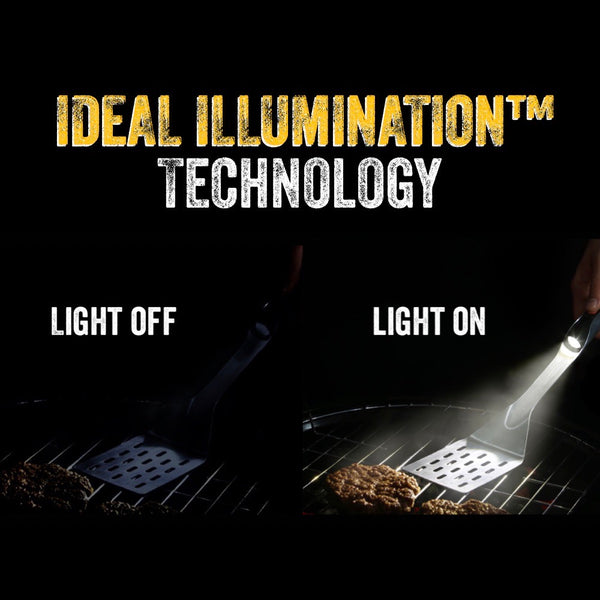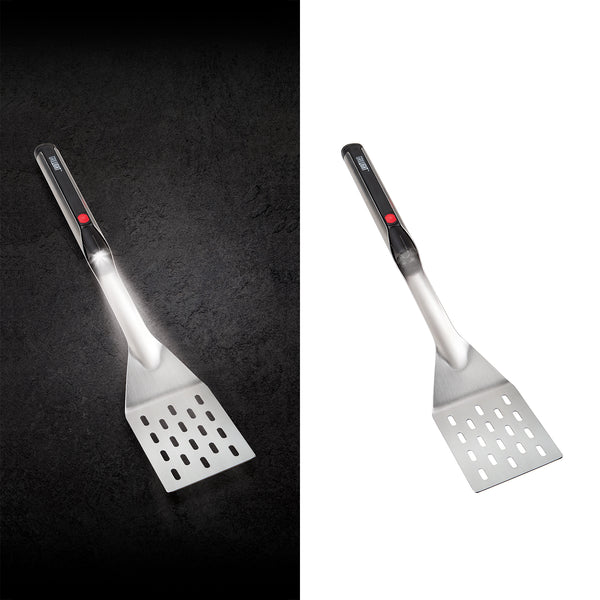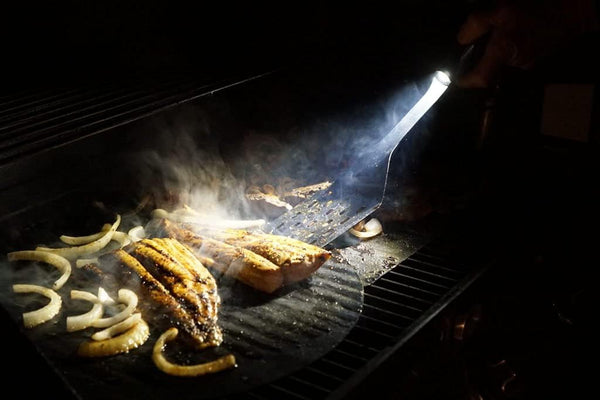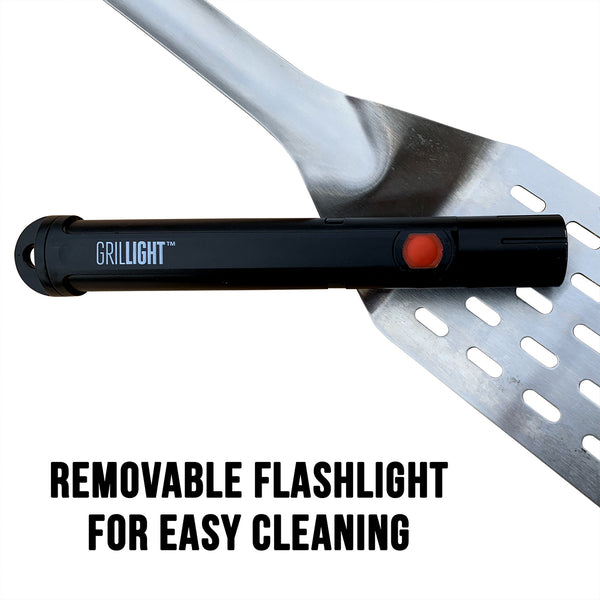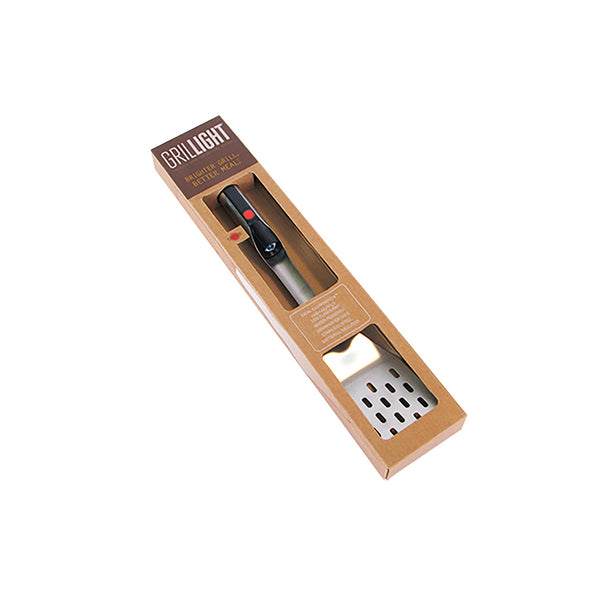 Grillight Spatula - Our Original LED Spatula
About The Grillight LED Spatula
Elevate your grilling experience with the Stainless Steel Grillight LED Spatula. Designed to be the perfect spatula for any griller, this standard-sized spatula comes with a super-bright LED flashlight built into the handle, enabling you to grill in the dark. The strategically positioned light effectively lights up your entire grill area, mimicking the natural daylight to ensure you always see the true color of your food.
Grillight LED Spatula Features
Restaurant-grade 430 stainless steel spatula
Heat safe, fully waterproof and dishwasher safe (once removable flashlight is detached).
Ideal Illumination™ LED flashlight built into handle
18″ long
20,000-hour bulb life
AA batteries Included
Hanging hole for easy storage
Gravity lock mechanism for easy locking and unlocking with one hand
90-day manufacturer defect warranty
Benefits of Our LED Spatula
Perfect for Everyday Grilling: With its standard size and convenient hanging hole, our original Grillight spatula is the ultimate tool for every griller's daily use.
Durable and Easy to Clean: Crafted like premium restaurant equipment, this stainless steel spatula ensures safety, waterproofing, and easy cleaning (flashlight detachable).
Easily Grill in the Dark: The built-in LED flashlight replicates natural sunlight, providing clear visibility for nighttime grilling.
High Strength and Long-Lasting: Constructed from sturdy 430-stainless steel, the Grillight LED Spatula exceeds durability standards. The waterproof flashlight, powered by a long-lasting LED bulb, comes complete with AA batteries, included for your convenience.
Unique and Innovative Gift: Give the grill master in your life a gift they'll cherish and use forever!
Your Grilling, Elevated: Ideal Illumination™ Explained
Our LED Spatula is equipped with our revolutionary Ideal Illumination™ technology — a patented innovation that flawlessly replicates natural sunlight. Have you ever wondered why conventional LED lighting isn't found near meat or produce in stores? This is because regular LEDs distort the color of your food. However, with Ideal Illumination™, an exclusive feature of Grillight tools, we've successfully overcome this challenge for you.
Great but wish packaging was plain
It seems to be a decent product. I will know more after Christmas. However, my fiancé saw the packaging when it was delivered. I was a bit bummed but he doesn't know exactly what it is just that it's from Grillight. No stars less, just wanted to mention.
A perfect gift for a grill master
Original Grillight LED Spatula
Great holiday gift. My husband loves his
Original Grillight LED Spatula
Frequently Asked Question