See What People Are Saying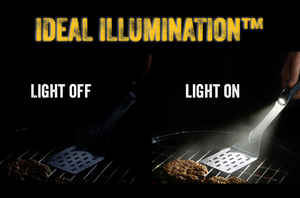 Not Just Another Spatula
Grillight was created because of a problem that needed a better solution. If you have ever grilled out in the evening, gone camping, or hosted an all day tailgate marathon you know what we're talking about.
Maybe you bought a clip-on grill light, but they fall off, never point where you need them, and always get in the way. You have probably thought, "there's got to be a better way." Well, finally there is. It's Grilllight! that's what we do. 
Our grill lights come with Ideal Illumination Technology which perfectly replicates sunlight. These lights keep your grill LIT any time of day. You'll never have a ruined BBQ again!  
Learn More About Us
Available at a retailer near you!