First things first, why brunch? Well, brunch is the perfect combination of breakfast and lunch, a delightful blend of sweet and savory flavors that will make your taste buds sing. It's a time to gather with friends and family, to relax and indulge. We may be masters of the grill at Grillight, but also appreciate good eats to kickoff the weekends.
Surprise (and impress) your family or friends this weekend with some of these amazing brunch options!
Let's jump right in to the recipes.
1. Pull Apart Sticky Buns
INGREDIENTS 
1 1/2 tubes of

 

large

 

buttermilk biscuits
3 TB melted butter
1/2 cup maple syrup
1/3 cup packed brown sugar
2 tsp cinnamon
1/2 cup chopped pecans
powdered sugar for garnish
DIRECTIONS
Preheat oven to 375F. Grease bundt pan.
Whisk together melted butter and syrup, set aside. In separate bowl, combine brown sugar, cinnamon, and nuts.
Pour half of syrup mixture into bottom of bundt pan. Sprinkle half of the brown sugar mixture on top. Lay biscuits into the pan, overlapping them like tilted dominoes. Top with remainder of syrup and brown sugar mixtures.
Bake for 20-22 minutes, or until golden brown. Invert carefully onto serving plate, sprinkle with powdered sugar, and serve while warm.
2. Eggs Benedict Casserole
INGREDIENTS
For the Casserole:
1 lb ham – chopped
6 English muffins, split and cut into 1-inch pieces
8 large eggs
2 cups milk
1 TB onion powder
1 tsp salt
1 tsp garlic powder
1/2 tsp black pepper
1/4 tsp paprika
For the Sauce:
4 large egg yolks
1/2 cup heavy whipping cream
1-2 TB lemon juice
2 tsp Dijon mustard
1/2 cup melted butter
salt and pepper to taste
DIRECTIONS
Grease 9×13 baking dish. Place half of ham in bottom. Top with English muffins. Follow with remaining ham.
In a large bowl, whisk together eggs, milk, onion powder, kosher salt, garlic powder, and black pepper. Pour evenly over top of casserole. Cover tightly and refrigerate overnight.
Preheat oven to 375F and remove casserole from fridge. Sprinkle casserole with paprika. Bake for 35 minutes covered and 10-15 minutes uncovered, or until middle is done.
While casserole is baking, use a double broiler to whisk together egg yolks, heavy cream, lemon juice, mustard, and a pinch of salt and pepper. Continue whisking until sauce is thick enough to coat back of spoon. Reduce heat and add in melted butter, whisking constantly. Serve sauce immediately with casserole.
3. Apple French Toast Casserole
INGREDIENTS
1/2 cup melted butter
1 cup packed brown sugar
1 whole loaf fresh Texas Toast bread 
4 large eggs
3/4 cup milk
3/4 cup apple butter
1 tsp vanilla extract
2 granny smith apples, peeled and diced
3 TB cinnamon/sugar
DIRECTIONS
In a bowl, combine melted butter and brown sugar and mix well. In separate bowl, beat together eggs, milk, apple butter, and vanilla. Set aside.
Grease a 9×13 pan, and pour butter mixture into pan, spreading evenly.
Put a single layer of Texas toast bread in the pan. Evenly distribute half of the egg mixture over the bread. Sprinkle with half of the cinnamon/sugar. Distribute diced apples evenly over the top. Repeat with second layer of bread, egg mixture, and remaining cinnamon/sugar. Cover tightly and chill overnight in fridge.
Preheat oven to 350F. Bake covered for 30 minutes and uncovered for 10-15 more minutes or until golden brown. Serve with powdered sugar and maple syrup while warm.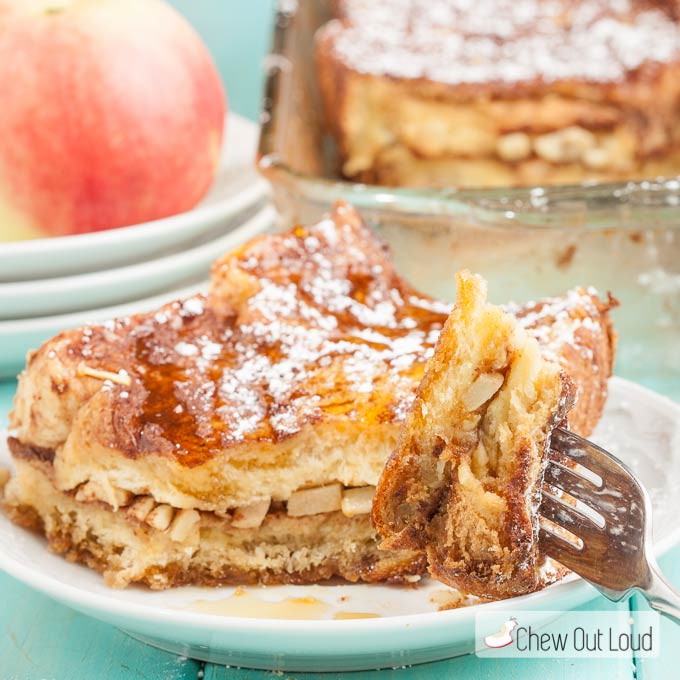 4. Hashbrown Breakfast Bake
INGREDIENTS
8 frozen hash brown patties
1 cup fresh spinach, torn
1 lb breakfast sausage, browned
2 1/2 cups shredded cheddar cheese
12 large eggs
3/4 cup milk
2 large tomatoes, sliced
1 tsp salt and pepper
1/4 cup parmesan
DIRECTIONS
Preheat oven to 350F, and butter a 9×13 baking dish.
Layer the hash brown patties into bottom of dish, followed by the spinach, the browned sausage, and two cups of cheddar cheese.
In a bowl, whisk together eggs, milk, salt, and pepper. Pour mixture over casserole and pat down.
Top with sliced tomatoes, followed by remaining cheddar cheese and parmesan cheese.
Bake 50 to 60 minutes or until center is done. Let cool 10 minutes before serving.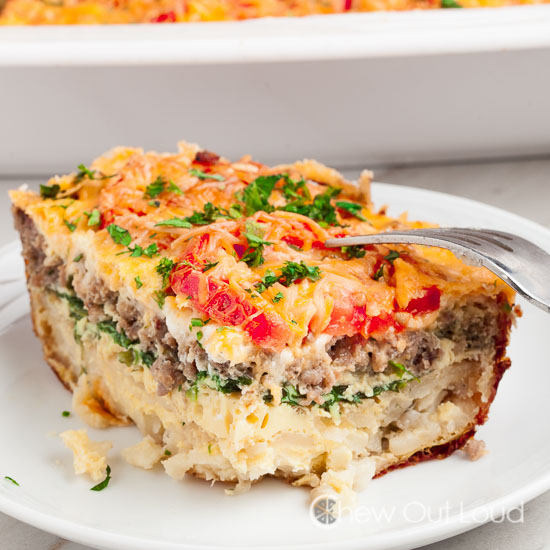 5. Lemon Almond Poppy Seed Bread
INGREDIENTS
For the Bread:
2 cups all purpose flour
3 TB ground flax seeds
3 TB poppy seeds
1 TB baking powder
1/2 tsp salt
3 large eggs, lightly beaten
2/3 cup white sugar
1/2 cup olive oil
1/2 cup vanilla Greek yogurt
1/4 cup milk
1 tsp vanilla extract
1 1/2 tsp almond extract
zest/juice from one lemon
For the Glaze:
1/3 cup white sugar
2 T lemon juice
1/4 tsp vanilla extract
1/4 tsp almond exract
DIRECTIONS
Preheat oven to 350F. Grease loaf pan.
In a large bowl, whisk together flour, flax seeds, poppy seeds, baking powder, and salt. In a separate bowl, whisk together eggs, sugar, oil, yogurt, milk, both extracts, lemon zest and juice.
Fold wet and dry mixtures together. Do not over mix.
Pour batter into loaf pan and bake 55-60 minutes or until the center is done.
While bread bakes, combine glaze ingredients.
Brush glaze generously over warm bread top, and allow bread to finish cooling. Gently remove from pan to slice and serve.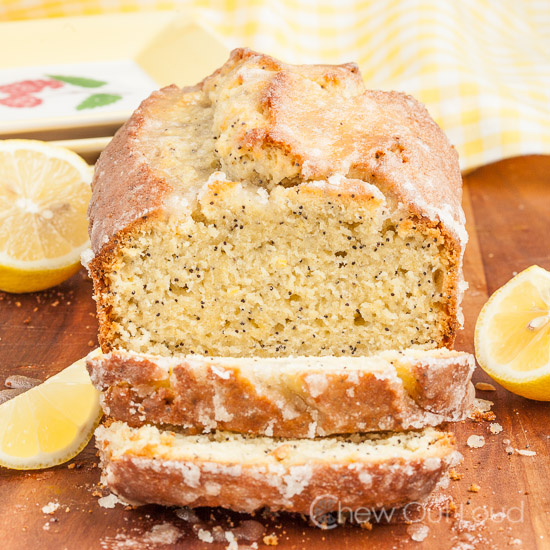 6. Protein Breakfast Cookies
INGREDIENTS 
2 1/2 cups old fashioned oats, gluten free certified if necessary
3/4 cups flour or almond flour
1/4 cup sugar, sugar substitute, or coconut sugar
1 teaspoon baking powder
1/8 teaspoon salt
1/2 cup milk or non-dairy milk
1/4 cup maple syrup, agave, or honey
1 egg or egg substitute
1 teaspoon vanilla extract
DIRECTIONS
Pre-heat oven to 350 degrees F and line a large baking sheet with parchment paper.
Add all ingredients to a large bowl and stir. 
Scoop the batter onto the parchment paper. Bake for 15-17 minutes, until firm and cooked through.
What to Add for Each Cookie
Lemon Blueberry
1/2 teaspoon ground cinnamon
1 1/2 teaspoons lemon zest
2 teaspoons lemon juice
1/2 cup fresh, dried, or frozen blueberries
Carrot Cake
1 1/2 teaspoon ground cinnamon
1/4 teaspoon ground nutmeg
1/4 teaspoon ground cloves
1/4 teaspoon ground ginger
1 cup grated carrot
Cherry Chocolate
1/2 teaspoon ground cinnamon
1/3 cup chocolate chips or non-dairy chocolate chips
1/2 cup fresh, dried, or frozen cherries
Chocolate Peanut Butter
1/2 teaspoon ground cinnamon
1/2 cup creamy peanut butter or other nut butter
1/4 cup unsweetened cocoa powder
(If mixture seems too thick after adding nut butter, add more of the liquid ingredients 1 tbsp at a time until consistency loosens.)
Banana Bread
1 teaspoon ground cinnamon
1 large ripe banana, mashed
1/2 cup chopped walnuts
Tropical
1/2 teaspoon ground cinnamon
1/2 cup diced dried pineapple
1/2 cup diced dried mango
1/2 cup diced dried apricot
1/2 cup chopped cashews or other nut
Photos and recipes courtesy of Chew Out Loud and She Likes Food.