Grilling is a quick and tasty way to get dinner on the table. The key to healthy grilling is choosing lean meats, vegetables, and heart-healthy fats.
In this article, we'll share delicious and nutritious grilling recipes that will please the whole family without weighing you down. You'll find chicken and vegetable recipes that will make your next backyard barbecue an event to remember.
Fire up the grill and get ready to cook delicious food that's good for you too!
1. Grilled Sweet Potatoes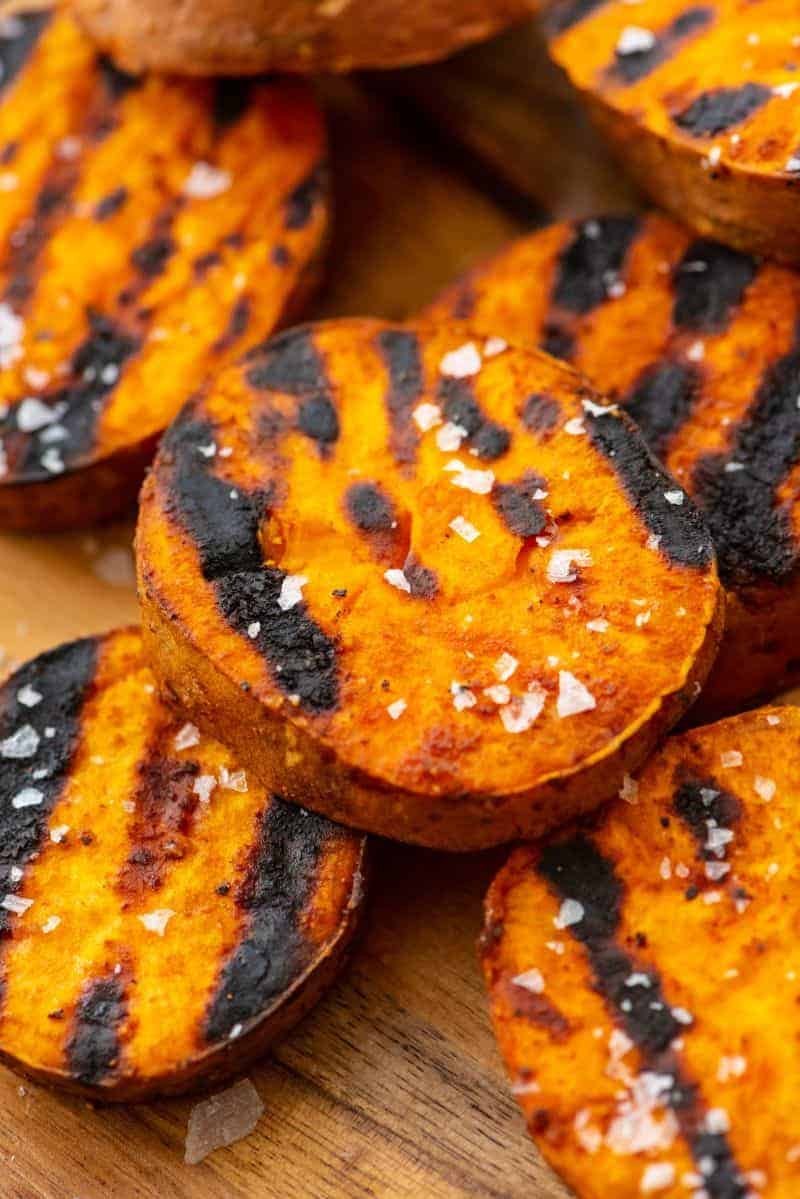 Ingredients
4

 s

weet potatoes, peeled

 

cut into 1/2" discs

3

 

Tbsp

 

olive oil

Pepper to taste

Garlic salt to taste

Paprika to taste (optional)

 
Instructions
Preheat grill to high heat.
Toss sweet potatoes with olive oil and seasonings.
Turn heat to medium before placing potatoes on the grill.
Cook for 10 minutes on each side or until soft.
Transfer potatoes to bowl and season more if desired.
Serve warm.
2. Margarita Shrimp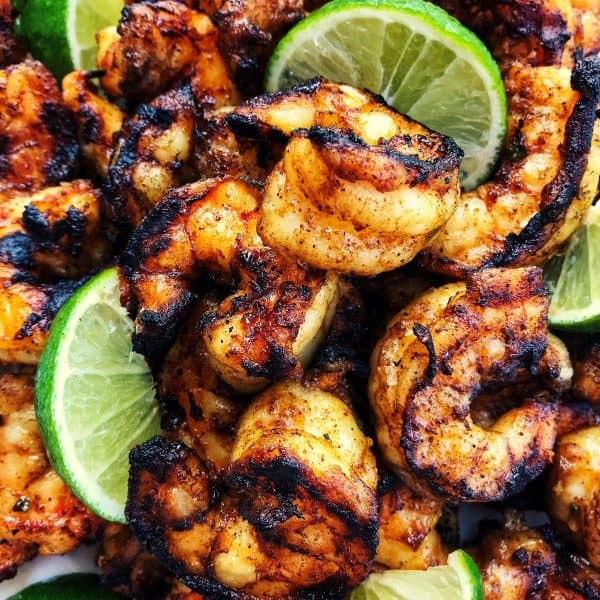 Ingredients
15-20 raw jumbo shrimp, peeled
1/3 cup olive oil
2 cloves garlic, chopped
1 tsp. minced jalapeno
1 Tbsp. brown sugar
1 tsp. paprika
1 tsp. chili powder
1 tsp. garlic powder
1 tsp. onion powder
1 tsp. cumin
1 tsp. salt
1/2 tsp. pepper
2 Tbsp. lime juice
2 tsp. tequila (optional) 
Instructions
In a bowl, combine all ingredients from olive oil through pepper. Gently toss shrimp in marinade to coat evenly.
Cover and refrigerate for 2 hours.
Immediately before grilling, mix together tequila (optional) and lime juice and drizzle mixture over the shrimp. 
Preheat grill to medium-high. 
Grill shrimp for 3 to 4 minutes per side, or just until shrimp are no longer opaque.
Serve with fresh lime wedges to squeeze over the top.
3. Cauliflower Steaks
Ingredients
2

 

heads

 

cauliflower,

 

leaves removed

1/4

 

cup

 

olive oil

1

 

tsp.

 

garlic powder

1

 

tsp.

 

paprika

1/2

 

tsp.

 

onion powder

1/2

 

tsp.

 

liquid smoke

1/4

 

tsp.

 

salt

1/4

 

tsp.

 

pepper
Instructions
Preheat grill to high heat.
Cut the cauliflower heads in half top-to-bottom, then cut the halves in into 1"-2" slices (steaks).
Arrange the steaks on a baking sheet or tray. Set aside.
In a bowl, mix together the remaining ingredients. 
Coat both sides of the steaks with the seasoning mixture.
Place the cauliflower steaks on the grill and cook for 4-5 minutes.
Carefully flip the steaks with a spatula and continue grilling for 3-4 minutes or until tender.
Serve immediately.
4. Brown Sugar Grilled Carrots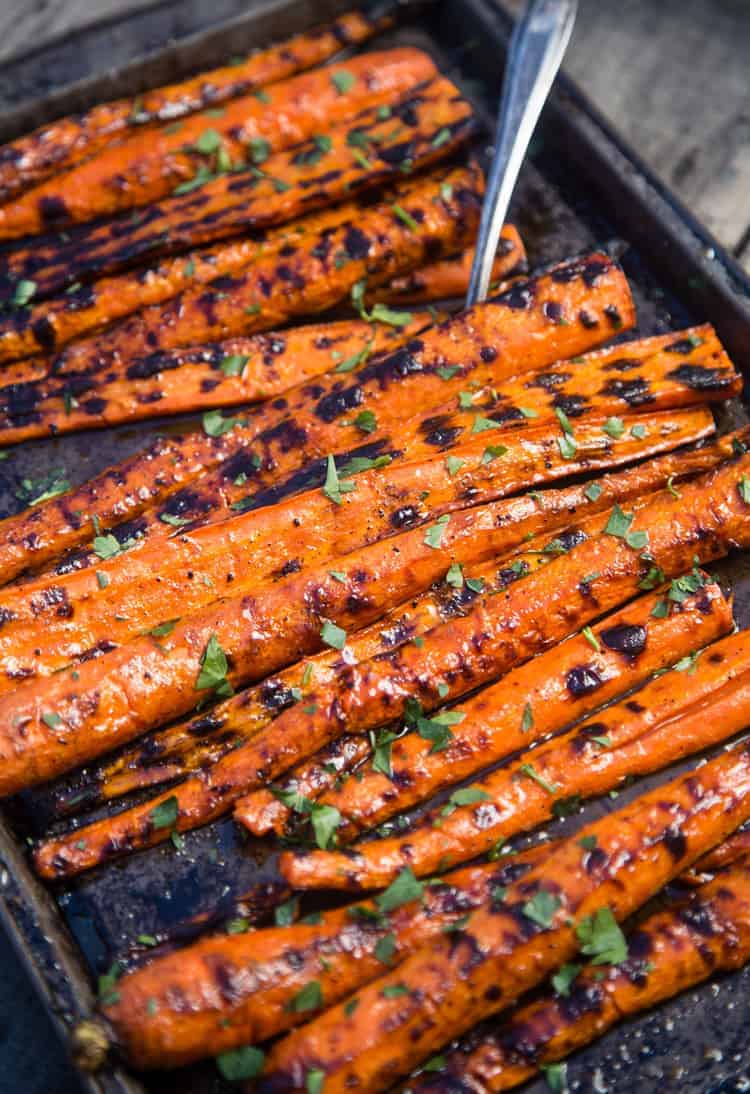 Ingredients
1 

pound

 

carrots, sliced down the middle lengthwise

1 Tbsp.

 olive oil
For the Brown Sugar Glaze:
2 

Tbsp. 

butter

1/4

 

cup

 

brown sugar

1/4

 

cup

 

honey

Pinch of salt
Instructions
Preheat grill to medium-high heat.
Toss carrots in olive oil, then place directly on the grill for 15-20 minutes, checking often. Rotate every few minutes to get a slight char on each side.
Meanwhile, make the glaze according to instructions below. 
Once done, glaze the carrots, cook 1-2 more minutes, remove from heat, and glaze again.
For the Brown Sugar Glaze:
In a small saucepan over medium heat add butter, brown sugar, honey, and salt and mix together.
Whisk frequently until the brown sugar dissolves.
Glaze the carrots immediately with the hot glaze. 
Worried about carrots falling through the grate? Consider using a grill mat.
5. Apple Cider Chicken
Ingredients
8 

boneless skinless chicken thighs

4

 

cloves garlic, chopped

2

 

cups

 

apple cider

2

 T

bsp.

 

olive oil

1

 T

bsp.

 

apple cider vinegar

2

 

tsp.

 

Dijon mustard

1 

tsp.

 

salt

1

 

tsp.

 

brown sugar

1/2

 

tsp.

 pepper
Instructions
In a large/extra large Ziplock bag, mix garlic, apple cider, olive oil, apple cider vinegar, mustard, salt, brown sugar and pepper.
Once well combined, place the chicken thighs into the bag.
Coat the chicken thighs and place the bag in the refrigerator to marinate for 3-4 hours.
Preheat the grill to medium-high heat.
Cook the chicken for 8 minutes and there is a charred crust.
Flip and cook 8 more minutes.
Make sure the chicken is cooked all the way through and serve immediately with a garnish of thyme and lemon.
If you're looking for innovative grill tools to level up your cooking, check out our LED spatulas, tongs, and other grill gear!