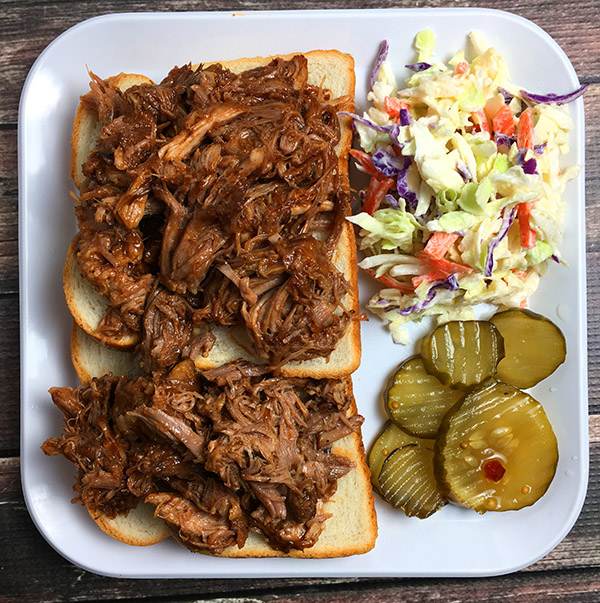 Okay. At this point, we can all agree that if you haven't bought an InstantPot yet, you're missing out. Its magic, I swear. BUT I was skeptical when I saw this recipe for InstantPot pulled pork. Pulled pork is *known* as something that takes forever to do it right. It takes equipment, patience, and the perfect cut of meat...right?
Small disclaimer: InstantPot pulled pork does take longer than other InstantPot recipes. I mean, it is still pulled pork. However, it is much much MUCH quicker than doing it any other way. From start to finish, it only takes a couple of hours. 
CHOOSING THE MEAT
If you've successfully made pulled pork before, you can probably skip this paragraph. Otherwise, this is your no-fail guide to making sure this works. You're looking for a PORK BUTT ROAST. If you want this to be as easy as possible, get boneless. Although, some would say that a bone-in roast gives more flavor. Whatever you find, make sure that it is vacuum packed and says that it contains a 12% solution; this means that the roast is brined. This guarantees freshness, tenderness, and juiciness. Generally, a 4 lb. roast is more than enough. 
INGREDIENTS
For the dry rub:
3

 

tbs light brown sugar

2 tsp

 

salt

1 tsp

 

ground mustard

1 tsp

 

black pepper

1 tsp

 

onion powder

1 tsp

 

paprika

1/2 tsp

 

garlic powder

1/4 tsp

 

cayenne pepper
For cooking:
1 1/2 cup

s chicken broth

1

 

tbs Worcestershire sauce

1 tsp

 

liquid smoke

2

 

tbs olive oil
For serving:
1/2

 

–

 

1

 

cup of your favorite BBQ sauce.
---
INSTRUCTIONS
Trim fat from pork roast and cut into 4 similar-size chunks.
Add all dry rub ingredients to bowl and whisk together. Add pork roast chunks and coat well.
Add 2 tbs olive oil to Instant Pot and set to saute. Once it indicates hot, add 2 chunks of the pork. Sear on each side for about 2 minutes each. Remove pork and set aside on a plate. Repeat with remaining pork pieces.
Press cancel and add 1/2 cup chicken broth. Use a wooden spoon or spatula to deglaze the bottom of the pot. Then add remaining chicken broth, Worcestershire sauce and liquid smoke.
Place pork chunks directly into the liquid in the pot. Secure lid and make sure vent is set to sealing. Pressure cook/manual on high pressure for 60 minutes.Then let pressure release naturally for 20 minutes or until pin drops.
Remove pork to cutting board and shred with GrillClaws (the best way to shred meat BY FAR. Buy here.)
Add your favorite BBQ sauce as desired, plate and serve.